My Compositional Layout series appeared in the Donny Wals newsletter
This is a first where my series was featured instead of single post.
Published: Jan. 21, 2021

Sponsored

Get the app

So today I got pretty nice Twitter notification. Donny Wals tweeted about my Compositional Layout posts that he included in the latest issue of his newsletter. It was issue 55 and you can check it here.

I have already mentioned that I am not really after numbers (I don't have any analytics on this site), but it is sure nice to know that more people can discover the content I spent considerable amount of time creating. Since Donny has over 8k followers, this newsletter and Twitter mention is really awesome.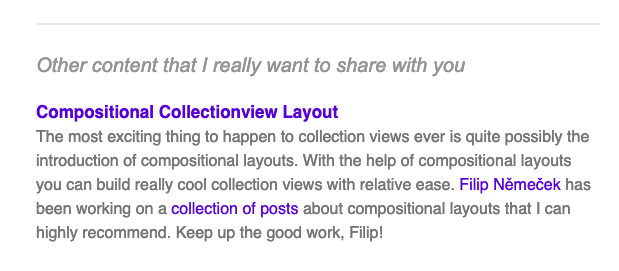 Thanks, Donny! Check out Donny's site for his blog and books about Combine and Core Data.