Press Releases: Step-by-step guide
Detailed how-to about sending your first app press release.
Published: Aug. 21, 2022

Sponsored

Get the app

I have written previously about press releases, but never in a truly detailed manner. So in this post, I am going to go into detail about how I sent a press release about my app Chill Zones that got covered on iMore.

I aim to present the entire process from idea to finish so anyone can follow along with their press release.
1: Pick the topic
My first step was to decide to send the press release. I have just added iPad support to my app and thought it could be worth a shot to let the press know.
Don't be discouraged from sending a press release about "minor" things. You can at least get your app "out there," and perhaps someone will decide to cover it entirely - not just the new update.
If the outlet covered your app previously, they might use the minor press release to update the article and put it again on the front page. For example, NintendoLife article about my SwitchBuddy got bumped again to the front page when journalist updated it with press releases I sent.
For example my press release about new color themes for SwitchBuddy got covered.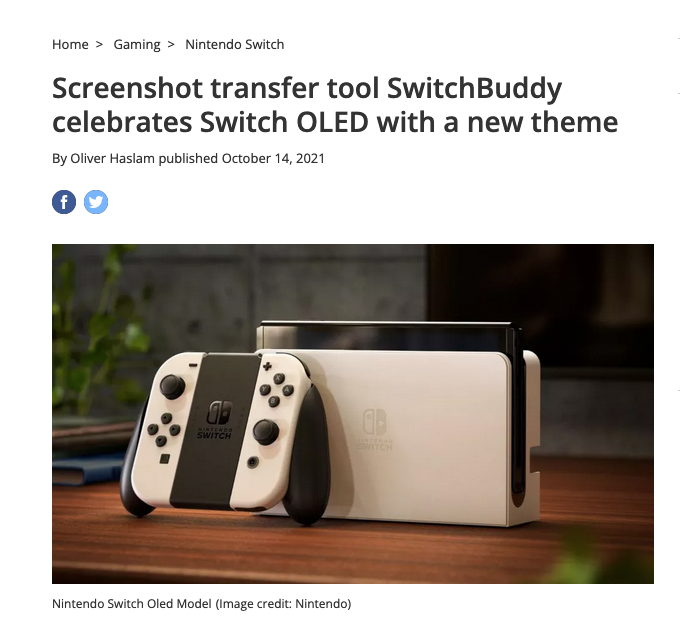 2: Write the press release
I realize that this step probably feels most daunting, but you don't have to write anything too complicated. My successful press releases resembled short blog posts with a slightly different format/tone.
For example, my Chill Zones press release was straightforward and brief.
The most important advice I can offer is to avoid the "you" form. (Sorry, I have no idea what is the correct term for this). Instead of "With AppX, you can track your time seamlessly", you would write "With AppX, users can track their time seamlessly".
Another goal should be to write in a style that makes parts of your press releases "quotable". Meaning the journalist can include parts of your press release. They will save time, and you will get your own words in front of people.
This is great for bullet lists of new features, for example. Information like this makes no sense for the press to write in their own words when yours are available.
In my press releases, I usually reserve the last paragraph to shortly recap what my app offers. Once you write this, you can use it in the next press releases. Journalists will unlikely remember your app exactly, so this can be a great refresher for them without digging into the press kit or App Store page.
For example, this is my summary for SwitchBuddy:
SwitchBuddy makes transferring screenshots and videos from Nintendo Switch to iOS devices easier
3: Find contacts
If your app has already been covered, you should first contact those journalists. In this case, I would recommend personalized emails. My press release email started something like this:
Hello [name],

Wanted to share a recent update for my app.

[entire text of the press release with links to press kit]
If your app wasn't covered yet, you can try to find a journalist who writes about similar apps first.
And lastly, you can use "mass" email with the BCC field you send to yourself. You can add as many journalists to the BCC field as you want; it won't be visible to anyone. Using BCC is standard practice when sending press releases.
Since Oliver Haslam - who writes for iMore - previously covered SwitchBuddy, I sent this press release his way with a personalized email.
If you are starting from scratch, your first task is to find journalists. If you already have websites about Apple you follow, start there. I usually go through the latest posts or try to filter articles from "apps" category if the website has a dedicated category and then look through the post.
Popular sites are the already mentioned iMore, 9to5Mac, Cult of Mac & MacStories.
Ideally, you should find articles about similar apps or at least indie ones. Once you do, you can inspect the journalist's profile on the website, and if they have a public email, you can continue to the next step.
Otherwise, you can look for Twitter and check the bio if the contact email is there or send "cold DM" with the app introduction and press release mention. I would recommend not sending any links until you get a response. Because if you do, it is very likely Twitter will hide your message in the "Message requests" under the "Show" button, and it is implausible you will get a response.
TIP: My project ImpressKit offers "Media contacts" section that lists Apple-focused journalists who cover indie apps.
4. Send the press release
Once you have the press release and contacts, the last step is sending it. I used the option in ImpressKit to copy the entire press release content. This saves time and also inserts all the necessary links at the bottom. So you never forget to include your press kit or App Store link.
With this Chill Zones press release, I added a single screenshot from the Apple TV version to visualize what the app offers as an email attachment (ensure the image size is relatively small).
In the email, it looks like this: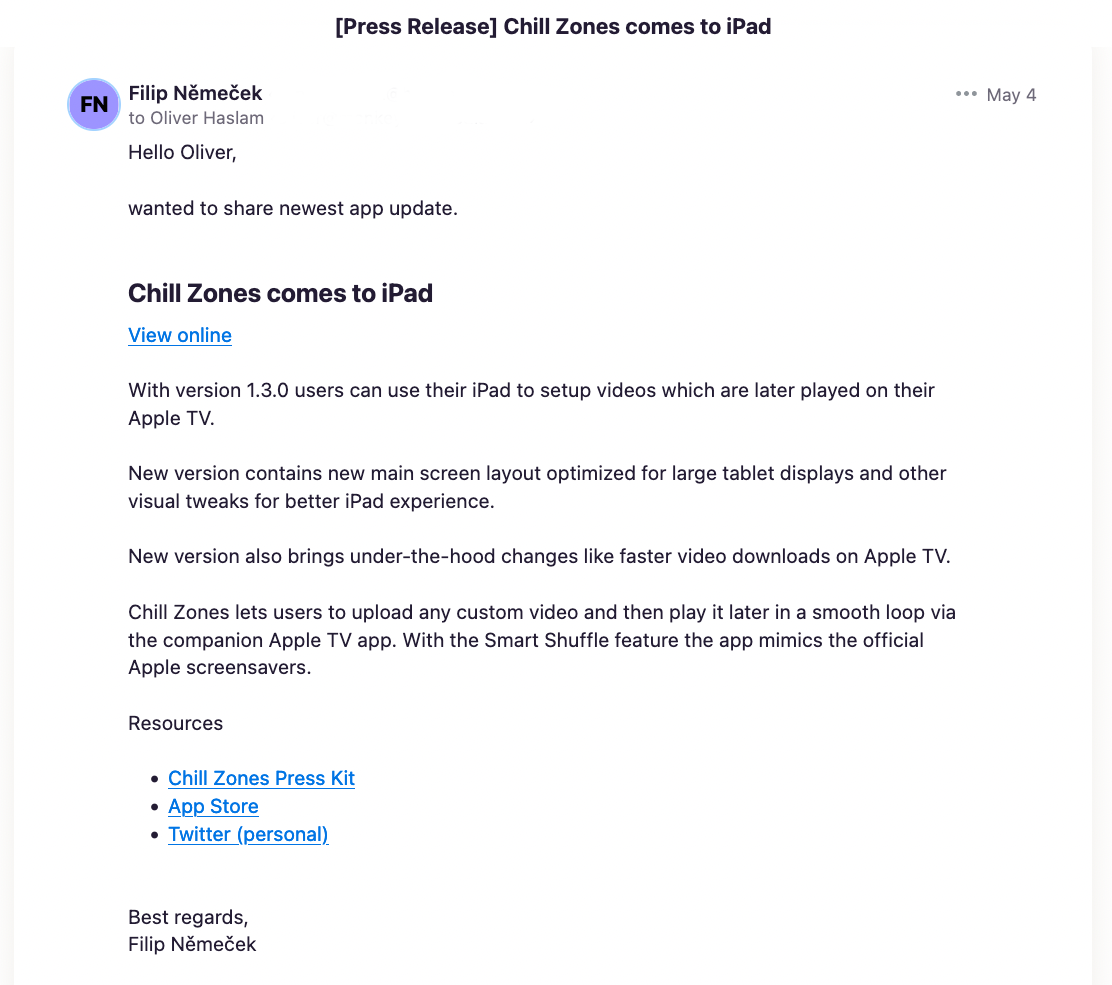 Make sure to:
Include the entire press release
Link to your press kit
Recap
Hopefully, this post showed you that sending press releases is something doable, even for indie developers.
If you want press coverage, take a bit of time with each feature update and send it out. The press release can be reasonably short. Even if it isn't published, you still gain experience and put your app on the journalists' radar. Maybe next time, you will find more success because the app will sound familiar.
Is there anything missing you would like to see answered? Get in touch! I am happy to hear feedback.