How to get featured on the App Store
According to devs who got features many times.
Published: Aug. 25, 2022

Sponsored

App Store

Being featured in the App Store is a pretty good deal. But did you know that you can ask Apple to feature your app? Asking for a feature is available to every App Store developer. All you need to do is to fill out dedicated form on the Apple Developer website.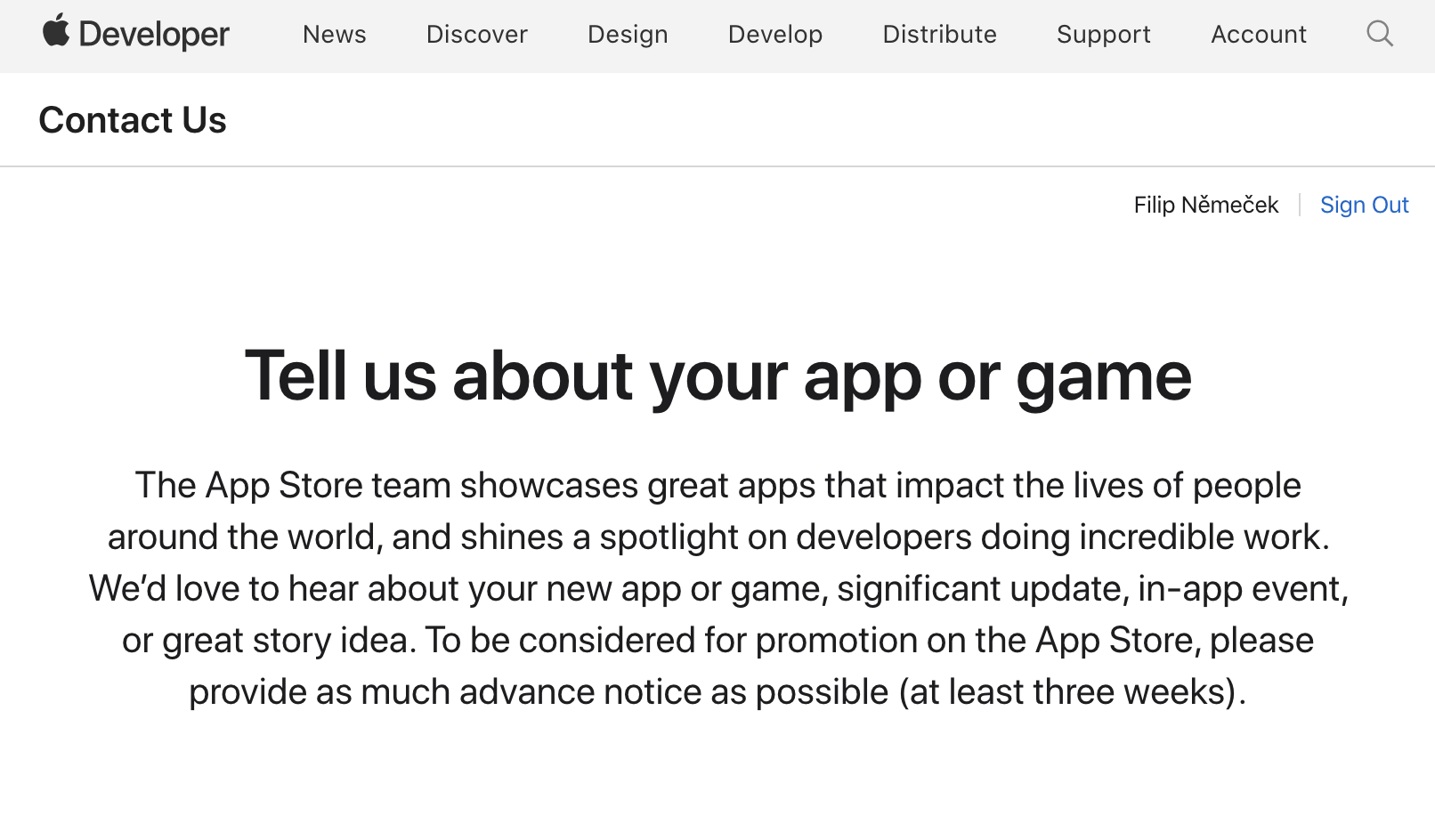 Since I haven't had the experience yet with the form, I have decided to chat with fellow developers in hopes of inspiring more indie devs, perhaps to pay attention to this form and get excellent exposure on the App Store.
Submit often for the best results
If there is one big takeaway, it is that it makes sense to submit this form often. Ideally, for each significant app update. As Emmanuel Crouvisier (developer of CardPointers) recommends:
I submit that form multiple times per year, and have been fortunate enough to be on at least one feature list every big iOS release 3 years in a row.
Wessley Roche - the developer behind Everlog - recommends the same approach:
Got featured a couple times as App of the Day in several EU countries. I submit that form for every major update.
While you won't usually get a confirmation from Apple that your submission was the reason for the App Store feature, it seems likely. I don't think the App Store editorial team tries to find apps independently. Perhaps they do in the case of already big and popular apps.
If you need more confirmation to submit often, here is Leo Mehlig, the creator behind Structured:
I submitted this multiple times and was featured afterwards. But it's unclear if this has anything to do with the form.
And it seems like even Apple recommends frequent submission, Leo again:
Someone in a lab ones told me, to basically submit it for every small feature-update.
If you want to maximize your chances, then apart from submitting often, you should also submit close to a new iOS release - assuming you will update your app with new iOS features or are building a brand new app.
Submitting the form
While with the frequency, all devs I spoke to agreed to submit often, *it seems everyone has their approach to filling the form. * For example, Emmanuel makes sure to utilize the optional "Links" section to share a dedicated page that showcases all the new features CardPointers will offer, along with a "viral video" hosted on Instagram and TestFlight link just for this purpose.
On the other hand, Leo & Wessley don't use the "Links" section and focus on the other parts of the form. They mostly detail what new features their apps will get with upcoming updates and what they already offer. Both devs were very kind and showed in detail what their submissions usually look like.
Wessley tends to submit concise, short-form answers with a big emphasis on bullet point lists to introduce new features and describe existing ones. On the other hand, Leo writes longer answers, almost hitting the 1000 characters' limit on a couple of answers.
For me, the takeaway here is not to stress that much about the format and make sure to provide the necessary info instead.
Although Apple recommends submitting the form three weeks or longer before the new app release or update, submitting on a tighter schedule doesn't seem to be a deal breaker. It would be best if you still tried to submit in as much advance as possible, but not be discouraged when you don't have the time.
Preparing promotional graphics
If you are lucky to be selected for a more prominent promotion, Apple will get back to you and request promotional graphics to include in the feature. These need to be submitted in PSD format (which Photoshop uses, but other editors can also export it). You should be given five to seven days to provide the graphics to Apple.
You can create these yourself, depending on how comfortable you are with Photoshop or other graphics software. Browsing current App Store features can serve as an inspiration.
Devs I talked with usually submitted multiple designs for Apple to choose from. Wessley created the graphics himself, while Leo switched to freelance designers after creating the first promo material himself.
Emmanuel enlisted the designer Matthew Skiles whom you may know from Twitter, where he shares awesome app icons he has created for developers.
Conclusion
Thanks for reading! This was a brand new blog post format, so I am open to any feedback! Let me know if there is perhaps some info missing or anything else.
And big thanks to Emmanuel, Leo & Wessley for their time.